The right Business Broker Advisor to sell your Service, Distribution, Manufacturing, Construction Trades, Government Contracting, Consulting, Health Care or IT / Tech business!
Prime Investments Has The Experience You Need!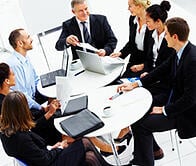 If you're thinking about selling your business, talk to your Prime Investments Business Broker / M&A Advisor. He has the knowledge and experience you need to accomplish your goals. And there's never an upfront fee or obligation.
Whether you're in construction or technology, service or manufacturing, consulting or communications, health care or hi-tech, your Prime Investments Advisor has the experience to guide the sale of your business to a successful conclusion.
Prime Investments has provided its expert advice and services to a diverse list of clients and has helped sell businesses in a wide range of industries, including:
From companies whose software runs nuclear power plants to companies that dig holes in the ground, from firms that manufacture hi-tech security systems to firms that distribute janitorial supplies, from companies that install bullet-proof glass in office buildings to those who provide home helpers to the elderly, Prime will choose the right buyer for your business and make sure you get the best possible deal.
Click on the button below to read some of Prime's many success stories and see samples of recently completed sales.