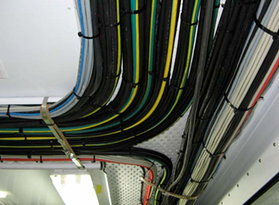 Power Services, Incorporated (PSI) is pleased to announce the acquisition of the majority of its stock by Mr. Sean Gourlay and Mr. Brian Buchner. Mr. Gourlay and Mr. Buchner were formerly employed by Truland Electric, as COO and VP respectively. Truland is one of the largest electrical contractors in the country.
With approximately $40 million in annual revenues, PSI is a leading regional commercial electrical contractor. Management attributes its success throughout its 25-year history to an unrelenting emphasis on quality and complete customer satisfaction. Clients consist of general contractors, end users and property management companies. End-users include such companies as General Dynamics, SAIC, Lockheed Martin, CNN, Verizon, BAE Systems, and governmental agencies such as the State Department, Federal Reserve, Department of Energy and Department of Defense. PSI is a signatory contractor with the International Brotherhood of Electrical Workers and the National Electrical Contractors Association.
Mr. Gourlay and Mr. Buchner are very excited by the opportunity that owning PSI represents. They plan to "hit the ground running" and plan to double revenues within the first five years.
Prime Investments Business Brokers acted as intermediary in the transaction. Prime Investments is a leading seller of lower middle market businesses. Prime represents sell-side clients in a wide variety of sectors, including service, software, construction trades, government contracting, distribution, engineering, consulting, medical and tech. Its "no up-front fee" business model, unusual in the M&A industry, has proved attractive to business owners throughout Prime's Maryland, Virginia, Washington DC, Pennsylvania market area.