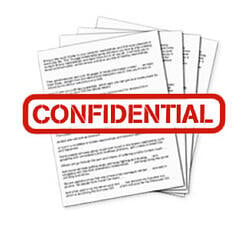 As a business owner, you are likely quite loyal to your employees. They've stuck with you through the tough times and helped you build your company into what it is today. You wouldn't be where you are without them. So when it's time to sell your business, it's not surprising that many owners are conflicted – they feel like they are betraying their devoted employees loyalty and trust.
Some owners feel guilty about keeping the sale a secret from a trusted manager or employee, especially those individuals with whom they have close personal or working relationships. But when employees learn their company is for sale, they get nervous. It's a natural human reaction, a normal response to an event they believe may threaten their well-being. An employee will worry the new owner won't keep him on, so he may start looking for another job – and perhaps share his fears with other employees. This is the type of news that spreads like wildfire, often distorting or losing the truth in the process.
It's best for everyone if news of the sale is not revealed until after the closing. This way, you control how and when the details are communicated. After the closing, your employees will have the opportunity to meet with the new management, who will assure them they are valued members of the team – which is true – and that their jobs are secure.
And if you tell even one employee, you've told them all. Even a trusted manager is likely to confide in his co-workers. And then word could get out on the street. Your vendors might put you on COD, your competitors will tell your clients you're going out of business and your banker will start calling you. Nothing good can happen from breaching confidentiality.
But how do you maintain confidentiality during the sale process? Here are some tips for keeping your deal confidential:
Create a buffer zone

. If buyers are communicating directly with you, you're fielding their calls and emails at work. This may lead to premature disclosure of the sale. Use a Business Broker or M&A Advisor to provide a buffer zone between your company and prospective buyers. A Broker will protect the confidentiality of the sale by shielding you from direct contact with potential buyers. All buyer communications will go through the Broker. The Broker will only contact you using an agreed-upon confidential email or mobile number.



Have all buyers sign non-disclosure agreements

. Non-disclosure agreements prohibit the buyer from sharing confidential information, including the fact that you are considering selling, from anyone except his lawyers and accountants involved in the deal. They also prohibit the buyer from speaking with your employees, suppliers, vendors, etc. without your prior written approval.



Conduct all meetings off-site or after hours

. Unless its normal for you to have meetings with people your employees don't know, avoid buyer meetings at your business site during business hours. Schedule meetings at your merger and acquisitions advisors office or at another convenient location such as a coffee shop or hotel lobby. If it becomes important for the buyer to see your operation, schedule the meeting in the evening or on the weekend when your employees are gone.



Don't Rush To Sell To Your Competitors

. When an owner tells us that he believes that a competitor would be the natural acquirer of his business, we strongly urge caution. Buyers from your own industry are not the buyers who are most likely to pay the highest price. We consistently find that equity funds and outside investors accept higher valuations than industry insiders. While your competition would love to acquire your clients and other assets, they generally don't like to pay for good will – after all, they already know how to provide the goods or services you provide. And selling outside your industry makes it simpler to maintain confidentiality, while even an unintentional slip or breach of confidentiality by a buyer in your industry could cause problems. That's not to say that selling to a competitor is never the right move - sometimes it is - but when it is, it needs to be handled with an abundance of caution.
Click here to learn more about maintaining confidentiality during the sales process or click on the button below or call us at 240 290-5000 and we'll map out the steps you need to achieve the highest possible market price for your business. There's never an up-front cost or obligation, and all communications will be held in the strictest confidence.