Are you "burned out"? Tired of dealing with the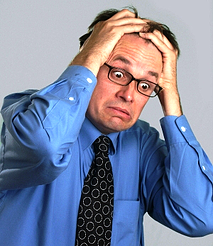 same problems every day? Don't have the passion anymore that it takes to improve your business? Don't want to risk making the big investment your company needs to grow? Wish you could spend more time with your family? Travel more?
You're not alone. Most owners who sell their businesses are in their mid-40s to early 60's. They're tired of the stress of having it all on their shoulders, the long hours away from home and family. They're not forced to sell because they're too old to run their company; rather, they choose to sell because they want a different lifestyle. Click here to listen to stories from entrepreneurs who have chosen to sell their businesses.
Sellers are typically energetic and vigorous entrepreneurs who have built great companies, made good money and are ready to enjoy their lives and families while they are still healthy and able to do so. They want to spend more time with their children or grandchildren (who might have been shortchanged while they were devoted to building the business), travel the world, or even take on a new business challenge.
How do you know when it's time to go? Here are 3 good indicators:
You Feel 'Burned Out'
It's hard enough to wear all the hats you wear and keep your business firing on all cylinders when you're motivated – it's a nearly Herculean task when you're not. It's not that you can't do it, it's just that you don't want to. The same problems day in and day out, the never-ending routine of collections, vendor issues and employee problems. It's not challenging anymore. It's not even fun. You're in a rut. You need a change of pace.
You Aren't Willing To Make a Necessary Investment In Your Business
You know what you need to do to take your company to the next level. And if you were younger, you would do it in a heartbeat. But now you're not so sure. Getting your company to the next level would take a huge additional time commitment just when you were trying to scale back. It would require you to re-invest substantial assets when you were thinking about taking money off the table, reducing your exposure, securing your retirement or seeding a new venture.
You're Thinking There Must Be More To Life Than Work
You've heard rumors about this and decided to investigate. Maybe you've dipped your toe in the water and taken a long trip to an exotic destination. It wasn't so bad. You could do that again. Or you can take a few weeks to go wilderness camping with your son before he goes away to college. Or sail the Caribbean. Or pick up your old electric guitar and get the band back together. Or finally spend time at your dream vacation home you built ten years ago. Or play more golf.
Business brokers and mergers and acquisitions specialists know that the time to sell your business isn't after you've neglected it, let it run down and its value has decreased -- the time to sell is when you're at the top of your game and your business is performing well. And when you're young enough and healthy enough to enjoy the fruits of your labor and do the things that you have always wanted to do.
It can take a year or more to sell a business. To discuss your situation and start your personal planning, click on the link below, visit us at www.primeinvestments.us or call us at 888 468-1660. We'll be happy to schedule a free initial consultation and complimentary business appraisal.
There's never an up-front cost or obligation, and all communications will be held in the strictest confidence.