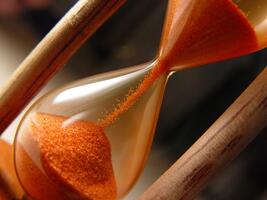 Business owners tend to be "type A" personalities. They make decisions and want to see them executed – not tomorrow, not next week or next month, but NOW.
When they finally decide that it's time to go (and it usually takes some time to reach that decision) they're the same way. They want the deal done yesterday. But selling a business takes time. It is a delicate and complicated process that needs to be guided by a hands-on, experienced professional. Your business likely represents the bulk of your estate and the monetary value of your life's work. You can't rush it. You need an experienced, professional Business Broker or Mergers and Acquisitions Advisor to help guide you through potential pitfalls, avoid costly mistakes and maximize the value of your business. There aren't second chances here. Click here to learn more about the process.
It normally takes between six months to one year to sell a business.
The good news is that during that time, you'll be running your business and making money. The bad news is that you will have to be patient as the process moves forward to closing.
Here's a typical timeline of the process of selling a business:
Month 1. Your Business Broker or M&A Advisor will give you a list of items he needs from you to write the Confidential Business Review (CBR) – the prospectus that tells prospective buyers about your business, shows your business in its best light and is calculated to help achieve the highest possible market price for your company. You will provide the requested items and your Advisor will draft the CBR for your approval. He will make any necessary changes and then finalize the document.
Months 1-2. Your Broker or Advisor will accumulate a list of potential buyers. Buyers might be private equity funds, hi-net worth entrepreneurial individuals or other companies. He will vet the potential buyers and have them sign Non-Disclosure Agreements (NDAs). NDAs require buyers to keep all of your information confidential, including the fact that you want to sell. He will provide the CBR to potential buyers, answer their questions and follow up with you on requests for additional information.
Months 3-6. Your Broker or Advisor will develop a "pipeline" of serious prospects. These prospects will want to meet you. Your Advisor will arrange in-person or virtual meetings. If the meeting is in-person, it should be held off-site or after hours to maintain confidentiality. Some buyers will move forward; others will drop out. Your Broker will facilitate responses to requests for additional information prospects who remain interested and arrange additional meetings.
Months 4-7. Your Broker or Advisor will solicit offers from interested buyers and help you negotiate terms. Offers will typically be in the form of a Letter of Intent (LOI) – a short, non-binding document outlining the basic terms of the prospective deal. There may be multiple LOIs before you and your Advisor are satisfied that a proposed deal is right for you.
Months 5-12. Once an LOI is accepted and fully signed, it typically takes between three and six months to go to closing. During this time several things need to happen. The buyer will retain legal counsel and draft a Purchase Agreement – the formal document that defines the terms of the deal. Your lawyer will review the document and make changes that help to better protect your interests. There is normally a fair amount of back and forth negotiation before the Agreement is acceptable to both parties. There may other documents to draft and negotiate as well – Covenants Not to Compete, post-closing Employment or Consulting Agreements, Security Agreements, etc. During the early part of this period, the buyer will conduct his due diligence – his examination of the company in more detail to ensure that everything is as it is supposed to be. He may retain accountants and attorneys to help with this task. He will, if necessary, also finalize his funding. When due diligence is completed, all the closing documents are agreed to, funding is finalized and any necessary approvals are received, it is time to go to closing.
Although we have sold businesses as quickly as 90 days, we find that most businesses take 6-12 months to go to closing. Click on the button below and we'll map out the steps you need to achieve the highest possible market price for your business. There's never an up-front cost or obligation, and all communications will be held in the strictest confidence.