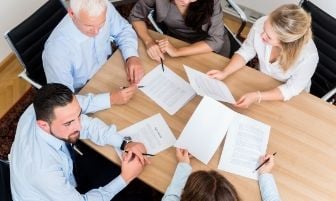 You may have a good idea of when you'll want to sell your business; perhaps you're nearing retirement, or you just want to try something new. Selling a business takes time—at least six months to a year. If you're wondering how to prepare your business for sale, here are some concrete steps you can start on right now.
Keep It Confidential
The only person who should know you're thinking about selling is you. Don't confide in employees or friends. You'll have a lot to do to prepare your business for sale, not the least of which is keeping it running and growing to be attractive to prospective buyers. If word gets out that you're thinking of making an exit, your business could suffer and your plan to sell could fail before it gets off the ground.
Get Your Papers in Order
One of the most important ways to prepare your business for sale is to get your financial records in order. Clean up any abnormalities on your books; make sure you've filed all your taxes. You should have three to five years of financial and accounting data prepared and ready, including financial statements and annual reports (if you have them) and tax returns.
Additionally, make sure that all of your licenses, permits, and contracts are current and up to date. These include licenses to do business, industry licenses, special permits, contracts with vendors and customers, leases, operating agreements, etc.
Think About Why You're Selling
One of the first questions buyers will ask is, "why is the owner selling now?" You should be clear about your reasons for selling your business and be able to talk about them. A buyer needs to be confident you're moving on because you're successful—not because you foresee tough times or problems for your business in the near future.
Find an Experienced Business Broker to Value Your Company
Businesses don't sell in a vacuum; they sell in a competitive market where buyers can choose which companies they want to bid on. A Business Broker has access to information about recent sales in your industry and knowledge about factors you may not have considered, but that are important to buyers in determining how much they are willing to pay. An experienced Business Broker will advise you on how to best position your business in the market.
Using a Business Broker increases the value of your business. By professionally packaging your business for sale—creating a custom-written prospectus highlighting your achievements and presenting your business in its best light—a Business Broker is able to achieve the highest possible price. He also defends that price by explaining to the buyer how the business was valued and by showing the buyer comparable businesses that have sold for similar amounts. If you're thinking, "maybe it's time to sell my business" your next thought should be "I should look for a professional, experienced business broker."
These are some of the things you should think about as you prepare to sell your business. To learn more about the process of selling a business, call us at 240 290-5000 or click here to send us a note.
Of course, there's no cost or obligation, and we will hold all communications in the strictest confidence.