Middle-Market Business Broker in Maryland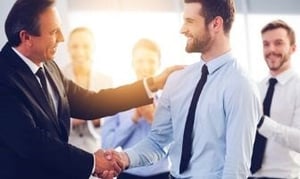 Prime Investments is a middle-market business broker with over three decades of experience providing Mid-Atlantic business owners with a confidential, no-risk approach to selling their business. We cater to a diverse client base in industries ranging from construction trades to service businesses, government contracting, distribution, manufacturing, IT and tech, healthcare, and more. We are headquartered in Maryland and have brought hundreds of sales to successful conclusion. Learn more below about the unique processes that make Prime Investments the best choice for selling your Maryland business.
We Don't Get Paid Until You Do
We are a unique middle-market business broker in Maryland that believes in aligning our interests with yours. We are motivated only to successfully close on the sale of your business - we earn nothing until that happens. We have no up-front fees, retainers, appraisal fees, or packaging fees of any kind. We earn our "Success Fee", based on the price your business actually sells for, only at settlement. Our mission is simple - to sell your business to the strongest buyer at the highest possible price.
Prime's Proven Process
Prime's proven sales process begins with a no-fee initial consultation where you learn more about us and we learn about your business and your goals. The next step is a no-cost, confidential appraisal. After we present the appraisal, you decide whether or not you want to go forward. Should you decide to proceed, we'll enter into a simple Broker Agreement and begin preparing our Confidential Information Memorandum (the prospectus). Once you approve this document, the selling process begins.
Prime has a three-layer approach to finding the best buyer for your business. First, we mine our extensive database of existing buyers, comprised of high net-worth entrepreneurs, private equity funds, and companies actively searching to acquire businesses in Maryland. Then, if needed, we discreetly advertise your business online with "blind ads" (that never identify your company) on special websites that host business buying and selling activity. Finally, we actively track down qualified companies that may have an interest in acquiring a business like yours, filtering by size, industry, and geography.
Once suitable buyers are located using these methods, your Prime Advisor will manage the entire negotiation process. Whether it's arranging meetings, facilitating information requests, soliciting offers or arranging financing, we are here to ensure you get the best deal from the strongest buyer. Contact us today to learn more!